Last week, I wrote about befriending our characters, as a way of using empathy to improve our character development. This week I would like to continue the discussion of character work by taking a slightly different approach to creating and enriching the people we write about in our books and stories.
I first came up with this formulation about a decade ago, while preparing to teach at the South Carolina Writers' Workshop, which then took place at Myrtle Beach. I have since used it at conventions, in workshops, and in an Odyssey Online course I taught several years ago. I refer to it as "The ABCs of Character," because it gets at the basics, and because it uses a handy mnemonic.
The ABCs are "Attributes, Backstory, and Circumstances," and they cover the elements of character that I like to think about as I "build" the person in question.
Let's start with Attributes: These are basic facts that define who the character appears to be to the outside world. They include, but are not limited to, the following: name, age, gender identity, racial identity, national and religious identities, occupation, family/partnership situation (single, married, married with children, widowed, etc.), appearance (eye color, hair color, body type, etc.) socio-economic status, education level, and pretty much anything else we deem essential to identifying this person. If our world is a magical one, and this person has access to magic, or if it's a tech world, and our character has special techie abilities, then that information would fit here as well. This is important stuff, but it's fairly superficial. The deeper issues come next.
Backstory: This is where we start to delve into our character's past. What has happened to her so far in her life? Where is she from? What kind of childhood did she have? Was she happy? Did she have lots of advantages growing up? Or was hers a more difficult upbringing? Were her parents around? Were they kind? Abusive? Indifferent? What has she survived? Is there darkness in her past?
Backstory is where our character's secrets lie. And in those secrets may lie the seeds of conflict that will inform our story. This is also where we might find the roots of our character's strengths and weaknesses. It doesn't take much imagination to see how very important backstory can be to all that will happen to our character and, even more to the point, how she might respond to adversity.
Finally, we have Circumstance: This is the immediate situation our character finds herself in as our story begins. This is where attributes and backstory meet our inciting event. Perhaps something has happened to change a key attribute. She has lost a job. She has found out her partner is cheating on her. A beloved friend or relation has died. Or… She has won the lottery, gotten her dream job, or discovered that she is the true heir to the throne of Whatever-Land. You get the idea. Big things have happened and her life has changed.
This event, for good or for ill, has dredged up some key element(s) of her backstory — a rivalry with a sibling, a dynamic in her relationship with her family, a buried memory that circumstance uncovers. Or this new circumstance calls on her to draw upon those strengths and weaknesses that are rooted in her life experience. This change, this inciting event, is where our story begins. This is where our character begins to figure out what motivates her, what she wants, and what obstacles she will face in trying to attain her goals.
Pretty straight-forward, right?
Let's put this technique to use by using Gollum, from J.R.R. Tolkien's The Hobbit and The Lord of the Rings as a case-study.
Gollum's Attributes: Gollum is several hundred years old. He is basically bald, he has overlarge blue eyes. He is small, wiry, very strong for his stature. It would be generous to say that he dresses poorly and in a minimalist way… He likes to eat fish. And he has this Ring that he just loves. A lot. I mean, he really, really loves this Ring. He calls it "Precious" for God's sake. You might say he's a little obsessed with it. He has no friends. And he likes to talk about himself in the second person, like royalty. Except he calls himself "Precious," too. He has issues.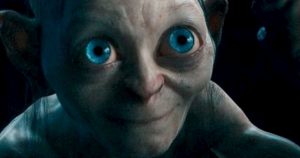 Gollum's Backstory: He was once one of the River Folk, a branch of the Hobbit people. His name wasn't always Gollum. It used to be Sméagol And, to be honest, the Ring wasn't originally his. It belonged to his cousin, Déagol, who found it while they were fishing on Sméagol's birthday. When Sméagol saw the Ring he fell in love with it, and he murdered his cousin to get it. His obsession intensified, and the Ring stretched out his life for centuries. He retreated into caves, existed in utter isolation as little more than an animal. He hunted, hid, tolerated the presence of orcs. Mostly he looked at his Ring.
Gollum's Circumstance: Gollum has lost the Ring and he is hell-bent on getting it back. It seems that is slipped from his grasp and wound up in the hands of — ironically — another Hobbit. He is forced to leave the lonely comfort of his cave and venture once more into a world that he fears, one that looks upon him with disgust and contempt. He is captured by agents of the dark who torture him for information about the Ring, which tells him that others are looking for it as well. He must find it first, even if it means killing the Hobbit or Hobbits who have it.
And there we are. The ABCs of character. Attributes, Backstory, Circumstance. Give it a try. You might find it helpful to conceive your main characters in this way.
Best of luck and keep writing!