'Tis the season for giving, and for searching out gifts for the writer on your holiday shopping list. Or, if YOU are the writer on your holiday shopping list, searching out gifts for yourself!
And so I thought I would share with you a list of some of the books on my bookshelves that I would recommend most strongly as presents for a writer. These are not novels, though I could probably make that sort of list as well. These are reference books, tools a writer might use in the crafting of their current work in progress. [That said, I would be remiss if I did not mention that my website, www.DavidBCoe.com, has a bookstore, from which you can purchase many of my novels!]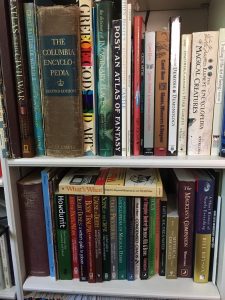 These are books I turn to again and again during the course of my work, and I expect the writer on your list will do the same. Not all of them are easy to find, but I assure you, they're worth the effort. So here is a partial list:
1) Standard Reference Books: Merriam-Webster's Collegiate Dictionary: Eleventh Edition (the hardcover, bound in red); Roget's International Thesaurus: Seventh Edition (organized thematically, not by alphabet — trust me); The Chicago Manual of Style: Seventeenth Edition (although if you were to get, say, the fifteenth edition instead, you might save some money and not really lose out on much).
These are all invaluable books. Merriam-Webster's Collegiate Dictionary includes not only definitions and the like, but also dates for when the words in question entered the English language. This is a huge asset for writers of historical fiction or fantasies set in worlds analogous to historical eras in our world.
Roget's Thesaurus, with the thematic index rather than an alphabetical or "dictionary form" organization, demands a little extra work from the writer. Looking up words is a two step process — check the index to find the precise meaning of the word you're trying to replace, and then go to the indicated page. But the advantages of having entries grouped conceptually are huge, if difficult to articulate. Suffice it to say, I often wind up finding the right word not with my original search, but with a secondary one that begins with a related idea or concept.
And the Chicago Manual not only offers style and usage guidance for almost every imaginable writing circumstance, it also shows how to prepare and format manuscripts professionally, and how to copyedit and proofread (and how to read a copyeditor's or proofer's marks), among other things. Every writer should have a copy, and actually, now that I think of it, I need an updated version!
2) What's What: A Visual Glossary of Everyday Objects – From Paper Clips to Passenger Ships, Edited by Reginald Bragonier, Jr. and David Fisher. I found this book used several years back after it was recommended to me by a friend, who happens to be a writer as well. Basically, the book provides you with the correct name for every part of every common object you can imagine. I used it just the other day, while writing a new Thieftaker story for the Noir anthology. I needed to know the name of the "u"-shaped arm of a padlock, the piece that swings open and closed to lock something. It's called a shackle. I hadn't remembered that, and would have spent way too much time looking for the word online had I not owned this book.
3) English Through the Ages, by William Brohaugh. Like Merriam's, this book provides the date for when common words entered the English lexicon. The added bonus that sets this book apart from the dictionary is its detailed index, which differentiates among various usages and meanings for the word in question. For instance, "lap" has an entry for the "lap" that a child sits on, and another for "lap" as a verb, as in a dog lapping up water, and still another for "lap," as in an orbit around a track. Those usages entered the language at different times. This book gives a date for each. Handy, right?
4) The Cunningham Series of Magic Books. Scott Cunningham has written a series of books for magic practitioners that cover a wide array of topics. He has one on magical herbs and plants, another on gems and minerals, still another on oils, incense, and brews. He has books on Wicca and one on elemental magic, and others beyond these. I am not a practitioner, but I find the books immensely helpful when I am writing about magic, particularly for series that are set in our world, like the Thieftaker and Justis Fearsson books.
5) The HowDunIt series from Writer's Digest. These books are meant for mystery writers and those who write police procedurals, but I believe they are also indispensable for writers of urban fantasy, horror, and even epic fantasy and science fiction. Available volumes touch on writing crime scenes, on writing about investigative procedures, on poisons, on murder forensics, on injuries and body trauma. I have seven of them, and I've used every one.
I could go on with more titles, but this is already a long post, and I have A LOT of books on my shelves. But here's the thing: When it comes right down to it, there are no limits to the kind of books a writer might find valuable. I have history books, tourist guides to castles and cathedrals, an illustrated architecture book on a ninth century Frankish monastery, books on astronomy, books on weapons, books on military campaigns and tactics, a book on animal tracking, field guides to trees, flowers, edible plants, rocks, butterflies, mammals, reptiles, and birds . . . SO many birds . . .
If you know a writer, and you happen to be glancing through the bargain bin at your local bookstore, chances are you can find something that person is going to love and find useful. Because — surprise! — writers love books.
Keep writing!