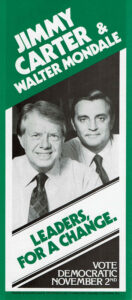 In 1976, I was thirteen years old. I couldn't vote, obviously, but I could work for candidates I liked, passing out pamphlets and such. That's what I did in my little (at the time) moderately conservative (at the time) hometown in suburban New York. I stood on street corners in the commercial district of our village and I handed out leaflets for the Carter-Mondale ticket. "Leaders For A Change," they read. A message that resonated after Watergate and the hapless administration of Gerald Ford.
Four years later, as a more rebellious seventeen-year-old, I made phone calls for the insurgent primary campaign of Teddy Kennedy. My father didn't approve.
I would be the first to admit that Jimmy Carter's presidency was not a successful one. I won't go so far as to say he was a bad President, because he did some very good things while in office, including trying to move the country toward energy independence and setting aside huge swaths of wilderness for preservation. He brokered the Camp David Accords with Anwar Sadat and Menachem Begin, ending the state of war between Egypt and Israel. And he created the Department of Education, which, despite right-wing complaints, has done much in the four decades since to improve education in the United States.
But Carter could be prickly with the press and with other politicians. He refused to play the sort of games Washington likes to impose on new Presidents. Unlike Ronald Reagan, who defeated him, and Bill Clinton, who would win back the White House for the Democrats in 1992, Carter could be pedantic, taciturn, moralizing. Rather than being a happy warrior, he was more a grim crusader, deeply convinced of his own righteousness and uncompromising in his principles. In a way, he was too honorable a person, too unwilling to mince words, and also too nuanced in his thinking to be an effective leader. He came to office in the midst of an economic crisis that he was unable to ease, and he could do nothing to prevent the seizure of the American embassy in Teheran, Iran. The subsequent hostage crisis really wasn't his fault, but it made him appear weak and ineffectual. It's not surprising that he lost the 1980 election in a landslide, nor is it surprising that he's remembered as a failed President.
Carter only began to flourish as a national leader after he left office. First, it should be noted that he never disputed his electoral loss or attempted to subvert in any way the transition to the Reagan Administration. A few years ago, that wouldn't have been noteworthy. Now . . . .
More to the point, freed by his defeat from the constraints of electoral politics, he was able to focus on what he did best: advocating for social justice and casting himself as the moral conscience of an increasingly divided nation. The Carter Center, a non-profit founded after he left office, has worked across the globe to alleviate poverty, advance health care in under-developed economies, and advocate for human rights. Carter and his wife, Rosalynn, have been steadfast supporters of Habitat for Humanity, working tirelessly to build homes for those in need. And he has helped several of his successors in the White House by serving as a roving diplomat.
While many (but not all) of our ex-Presidents have spent their post-Presidential years playing golf or painting or burnishing their legacies or even trying to redeem themselves and repair their reputations after repeated failures, ignominious electoral defeats, and illegal and immoral assaults on our republic, Carter has devoted himself to the humane causes in which he believes. He is a crusader for social and economic equity. He speaks his mind, calling out those in power who fail to live up to their oaths of office. He carries himself with dignity, humility, and grace. And he has set an example every day, showing us all what it means to be a public servant.
I believe a case can be made that regardless of who the best President in our nation's history might be, Jimmy Carter has been the best former-President we've ever had.
Last week, the Carter Center announced that Carter, now 98 years old, was going into Hospice Care rather than continue to pursue medical treatments for his various ailments. He has lived a full and incredible life, realizing lofty ambitions, traveling around the world, and touching literally millions and millions of lives. In the time he has left, I have no doubt he will continue to speak on behalf of those whose voices don't reach the ears of the wealthy and powerful.
And when he is gone, when we no longer hear his gentle Georgia drawl speaking truth to the better angels in each of us, he will leave a void in America's ongoing political and social dialogue.
Wishing you all peace, the comfort of loved ones, and a good week ahead.