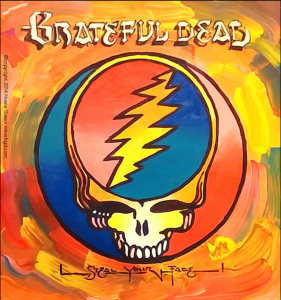 Hi, my name is David, and I used to be a Deadhead.
Yep. I saw them some twenty-five or thirty times in my youth. I slept outside, on line in front of arenas, in order to get the best possible tickets to shows. I traveled to different venues during tours to see them multiple times. I learned to play lots and lots of their songs on guitar, and I knew which were Jerry tunes and which were Bobby tunes. (That was a thing. It related to who sang lead and, often, who wrote the song. Really, you don't want to know.)
I was not as devoted a fan as many I knew, but I was pretty devoted. I had t-shirts, bandanas, lots and lots of records, even more tapes of live performances. It is possible – possible – that I got stoned a lot and listened to tape after tape after tape.
Gradually, during my graduate school days, my ardor for the group diminished. Eventually, I stopped listening to them almost entirely, my tastes shifting in a number of different directions. One or two of their studio albums remained in my listening rotation, but otherwise, I let them go.
When my oldest brother died a few years ago, he left behind a massive music collection that included several Dead disks, including some in what's known as the "Dick's Picks" collection. These are CD versions of those old concert tapes I listened to in college (curated by a guy named Dick Latvala). At least I think I listened to them. Did I mention that I might – might – have been stoned? Anyway, my other brother didn't want the disks, and neither did Bill's widow, so I took them. For more than two years they sat on my CD rack gathering dust, but finally, a few days ago, I took them out again and gave them a listen.
Here's what I found:
Let's start with the bad, because where the Dead are concerned, people often do. Yes, the vocals are shaky. Squeaky harmonies, flat melodies, the occasional forgotten lyric. Then again, the vocals are no worse than Dylan's, or, frankly, Mick Jagger's later live efforts. Not everyone can sound like the Eagles. And yes, the musicianship is sloppy at times. The Dead played a huge number of shows – well over two thousand. They rarely had hit records. They only broke into the top forty once, and that came late in their run, only a few years before Jerry Garcia's death in 1995. So they made their money by touring. And there were nights when, let's say, their attention wandered. The spacey jams that were their hallmark sometimes spilled over into tunes that had no business being spacey. Guitar solos spiraled out of melodic control, band members went off in separate directions mid-song, and, on occasion, they fell into the trap of playing the same songs – especially encores – night after night, leaving the songs punchless and at best ordinary.
But there was good as well. Great even. At a time when most rock bands played the same songs – the same setlists – night in and night out, the Dead were remarkably eclectic. Part of the reason Deadheads like me went to so many shows and listened to all those concert tapes was that nearly every concert was different. We never knew what they would play, or what song might seque into another. Deadheads used to compare setlists the way naturalists compare wildlife sightings. Hearing a rare song, like finding a rare bird, was a true thrill.
And despite the aforementioned sloppiness, their musicianship could be truly stunning. The band's sound revolved around Garcia's guitar work which was, at times, spectacular. Jerry Garcia played with some of the world's greatest musicians, appearing on not just rock albums, but also bluegrass, jazz, and country recordings. His pedal steel guitar work on Crosby, Stills, Nash, and Young's "Teach Your Children" remains some of my favorite guitar playing of all time. His live solos, when he was on, were innovative, powerful, even mesmerizing. He did way too many drugs, and later in his life and career his health suffered, as did his performances. But if you're interested in hearing what he was capable of doing, I would encourage you to listen to this (beware — the graphic spins slowly). And to this. The man could play.
Yes, the Dead were an acquired taste. But there was a reason they inspired such devotion and passion from their fans. They were imperfect – some nights they simply couldn't be bothered to play a decent note. On other nights, though, they were utterly inspired. And at all times they were unlike any other band that has ever been. I'm glad to have their music back in my life.
Have a great week!