Earlier this year, in the midst of spring bird migration, I wrote about my lifelong love of birding. I shared with you what birding has meant to me over the course of my life, and at the end I made a half-hearted attempt to encourage those interested to start birdwatching.
The truth is, though, that's a pretty heavy lift. I love birding and I've
been doing it long enough that I'm pretty good at it. But for most people, finding the time in their lives for a new hobby, one with a fairly steep learning curve, can seem a bit intimidating. Fortunately, this time of year there's an easy way into the hobby, one that helps the birds AND offers hours of entertainment.
To quote from Mary Poppins, "Feed the birds!" ("Feed the birds and what have you got?! Fat birds!")
With the arrival of fall, usually around mid-October here on the Cumberland Plateau, I put out our various bird feeders and fill them with sunflower seeds and suet blocks. I have several feeders mounted on poles in the back yard, and often within a few hours of putting out seed for the first time, my feeders become an all-they-can-eat buffet for titmice, chickadees, cardinals, woodpeckers, wrens, finches, sparrows, and others. From October until mid-spring, our yard is filled with birds darting to the feeders, taking a seed and flitting to a branch to break it open and have at the morsel inside.
You can find simple feeders in the garden sections of most home and hardware stores (Lowes has a decent selection) and even in the pet sections of most grocery stores. You can also find them online. Duncraft, Wild Birds Unlimited, Backyard Chirper, and BestNest.com all sell a wide variety. Some can be pretty pricey, but the truth is, the cheap ones often don't last long. To my mind, the best feeders for those looking for something durable and low-maintenance are the No/No Steel Wire Mesh collapsible feeders. They hold black oil sunflower seed, which is popular with a wide variety of bird species, they're tough (I have a couple and one is at least ten years old at this point) and won't be chewed up and ruined by squirrels, and the larger ones hold a good amount of seed, so I only have to fill mine once a week or so.
I also have a small plastic satellite feeder (it is shaped like Saturn, with a small opening), which is nice because only small, acrobatic birds can access it. Due to its size, it runs out of food too quickly, but it attracts titmice, chickadees, finches, and nuthatches. Larger birds can't perch on it.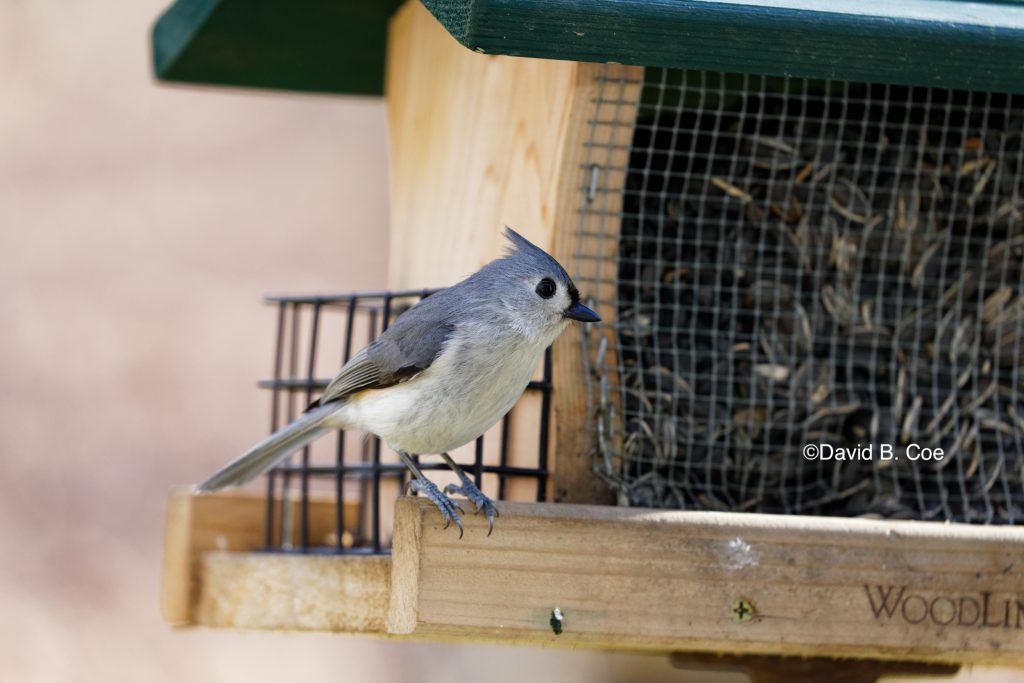 And I have a hopper feeder which basically looks like a small house. It's made of wood and has one big compartment that I fill weekly. The feeder is mounted on a pole, and I have modified it slightly since buying it. I removed the cheap plastic sides that held the seed in place, and in their place attached metal mesh — also known as hardware cloth. I used a staple gun to set the mesh in place. The result is a more durable feeder that holds slightly more than it would have otherwise.
This feeder attracts everything from the smallest species — chickadees, wrens, titmice, finches, and wrens — to larger birds like woodpeckers, Cardinals, and Blue Jays. In the spring I often get flocks of Rose-breasted Grosbeaks on the hopper feeder.
All my mounting poles are equipped with squirrel baffles, which do a decent, if not perfect, job of keeping the critters off the feeders. Don't worry: the squirrels don't starve. The dirty little secret of feeding our feathered friends is that birds are slobs. For every seed they get from a feeder, they often knock two or three to the ground. Squirrels get plenty of food just from the spillage, as do ground feeding birds like sparrows, juncos, and doves.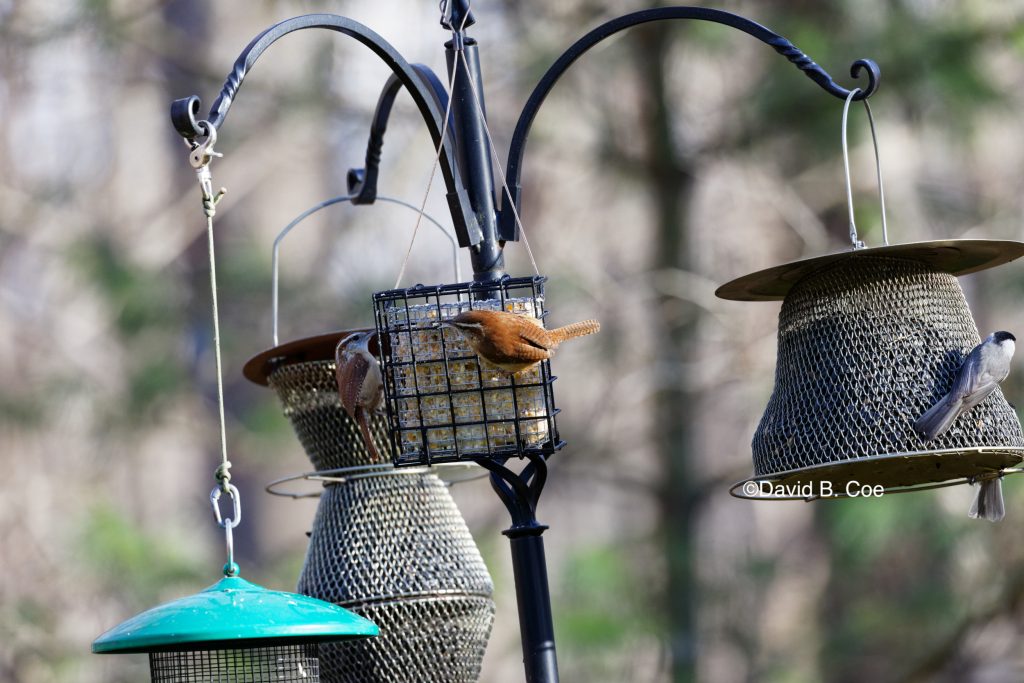 Finally, I also have a suet cage on one of my feeder poles. A suet cage is essentially a rectangular wire box that holds those suet cakes you can buy at grocery stores, hardware stores, and garden centers. The cakes are not perfect, but they're cheap, they're easy to load into the feeders, and the birds seem to like them. My brother, who lives far north of me, uses actual suet from the meat department of his grocery store. We can't do that here in the Southeast. Even in winter, we have too many warmish days. The fat would turn rancid. The cakes are a good compromise. They attract a variety of woodpecker species (Downy, Hairy, and Red-bellied Woodpeckers, Yellow-bellied Sapsuckers, even the large, crested Pileated Woodpeckers — think Woody Woodpecker) as well as nuthatches, wrens, and others.
I should also mention that starting in April and continuing throughout the spring and summer, Nancy puts out hummingbird feeders in her garden. This is a more work intensive endeavor than seed feeding. She blends water and refined sugar at a ratio of about 3 1/2 to 1, boils it to make it safe and to fully dissolve the sugar, and then lets it cool before filling the feeders. She has to do this three or four times a week, sometimes more. We go through a lot of sugar (we buy two kinds of sugar during the warm months — sugar for baking and such, and cheap, store-brand "bird sugar" for the feeders), but we usually have at least two pairs of hummingbirds breeding in the yard. At times, we'll have as many as ten or fifteen birds fighting for access to the feeders.
For more information on feeding birds, please visit All About Birds, the website of Cornell University's marvelous ornithology lab. They are a great resource and do wonderful work protecting birds.
I wrote about this today, because our feeders have been up for about two weeks and already I have derived so much pleasure from all the birds hanging around in our backyard. Putting out feeders is great way to start learning about birds — keep a pair of binoculars and a simple field guide handy, and you'll soon be identifying all of your hungry visitors. And, of course, you'll also be helping the birds endure the cold months.
Wishing you a great week.