I started work on my taxes this weekend, which is probably why taxes and government spending are on my mind for this Monday Musings posts.
Let's get this out of the way up front: No one likes to pay taxes. And if we didn't care about driving our cars on roads, or flying in airplanes that don't crash into each other, or eating meat that doesn't make us sick, or having some basic income in our golden years, or having access to health care after retirement, or going to beautiful National Parks, or doing about a thousand other things that we take for granted, we would love to keep all that tax money for ourselves, to spend as we see fit.
But, of course, we do want those things I mentioned. Plus we want a national defense. We want the police and fire and EMT services paid for by local taxes. We want to foster the arts and promote scientific research.
As Oliver Wendell Holmes famously said, "Taxes are what we pay for civilized society."
(A couple of other tax quotes for you: "The best measure of a man's honesty isn't his income tax return. It's the zero adjust on his bathroom scale." — Arthur C. Clarke; "Income tax has made more liars out of the American people than golf." — Will Rogers.)
I agree wholly with the Holmes quote (and probably the other two as well) and also with Joe Biden, who said during the 2008 campaign that paying taxes is an act of patriotism.
Biden said this after Barack Obama was criticized for proposing an end to the Bush tax cuts. Obama did raise taxes marginally, only to see them cut again under the most recent Administration. I have every expectation that the Biden Administration will roll back at least some of Trump's tax cuts — those that were targeted at corporations and the wealthy.
Without revealing too much, I will say that Nancy and do pretty well financially. We benefitted from the Trump cuts, and wish we hadn't. We didn't need the cut. Others did. We wound up increasing our charitable giving to compensate, and we will gladly pay more in taxes if it means cutting the tax burden for those who aren't as financially secure as we are.
What bothers me most about the conversation surrounding taxes in this country is those who say they don't want their tax dollars going to social welfare programs, because they don't believe in giving others a free ride.
First of all, if they honestly think that living in poverty is a "free ride," they're insane. Folks in Texas lost their heat and electricity for a week, and there was an outpouring of sympathy and aid — all of it justified and deserved. But there are plenty of people in this country who can't afford to heat their homes at all. There are people in this country who live on the streets, who wander from shelter to shelter seeking a meal or a bed or a bit of warmth. Every night in the United States children go to bed hungry.
In a civilized society, we try to take care of them, to feed and house, to warm and comfort.
And I would say to those who object to social welfare spending that I, too, don't like all the things my tax dollars buy. We spend nearly $700 billion a year on the military. I believe that is way, way too much. We spend money to benefit oil and gas companies, big pharmaceutical companies, huge agricultural conglomerates, and all sorts of other corporate entities. Most of those expenditures come in the form of tax breaks and credits, but that doesn't change the fact that they increase the tax burden on the rest of us. I object to much of that spending.
Some would tell me that defense systems, the search for oil, R & D for new drugs — these are things that benefit all of us. I might argue with these points — I don't think new defense systems are necessarily good for anyone, and I know that finding more oil to burn is a terrible idea — but I understand the logic of the argument. And I would counter that lifting up those in need helps all of us as well, that improving education for those with the least pays dividends for all of society, that enabling all to participate fully in the nation's economy improves that economy for everyone.
The larger point is this: We don't get to pick and choose where our tax dollars go. I have to pay for a new weapons system and for oil and gas exploration that Exxon can easily afford to do on its own. Others have to spend on school lunches, teacher training, childhood health subsidies, vocational retraining, etc.
This is the price we all pay in order to live in a diverse, thriving nation.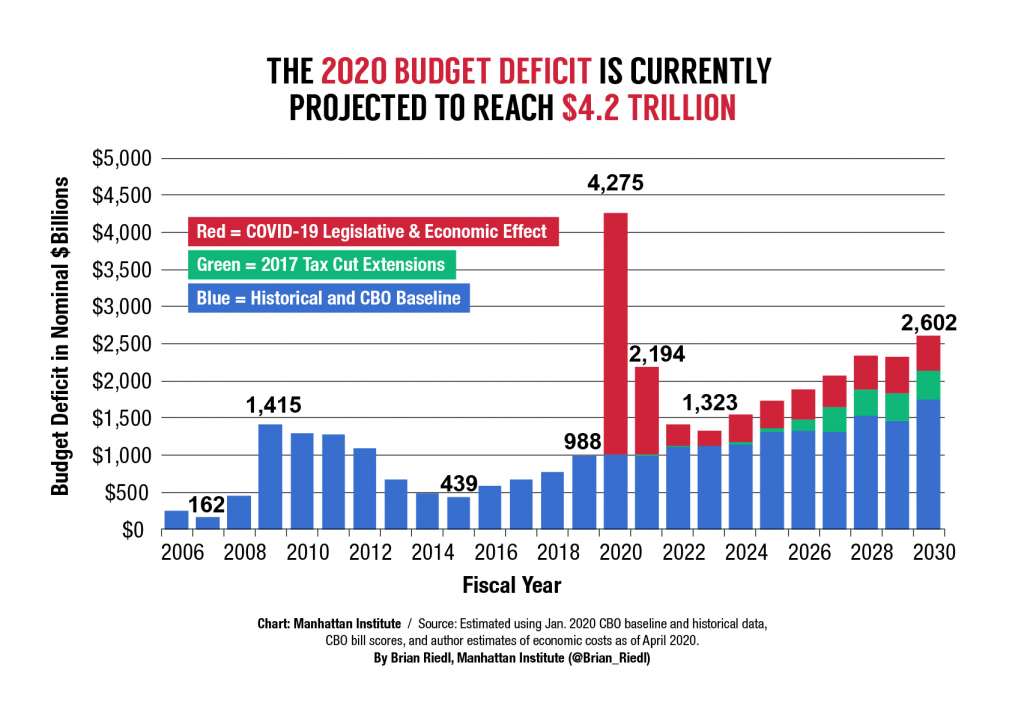 And one more point I would like to make. Interest on the national debt currently gobbles up 8 cents out of every tax dollar. The budget deficit for 2020 was $3.7 TRILLION (slightly less than the chart above projects — I included the chart for the trend line). Even before the pandemic hit, necessitating emergency spending, the Trump tax cuts had driven projected deficits way up over where they were by the end of the Obama Administration. Some will try to tell you that those tax cuts simply returned money to the pockets of Americans. Bull. Every dollar that Donald Trump added to the deficit increased that interest expenditure I just mentioned and forced the rest to pay more. By skewing his cuts to the wealthiest among us, he basically forced the rest of Americans to subsidize a tax cut for the rich.
In any case, I still have a bit of work to do on our taxes, but it looks like we overpaid for the year. Most likely, we'll take our refund in the form of prepayment of my estimated taxes for 2021. That's just the way it works.
Have a good week.